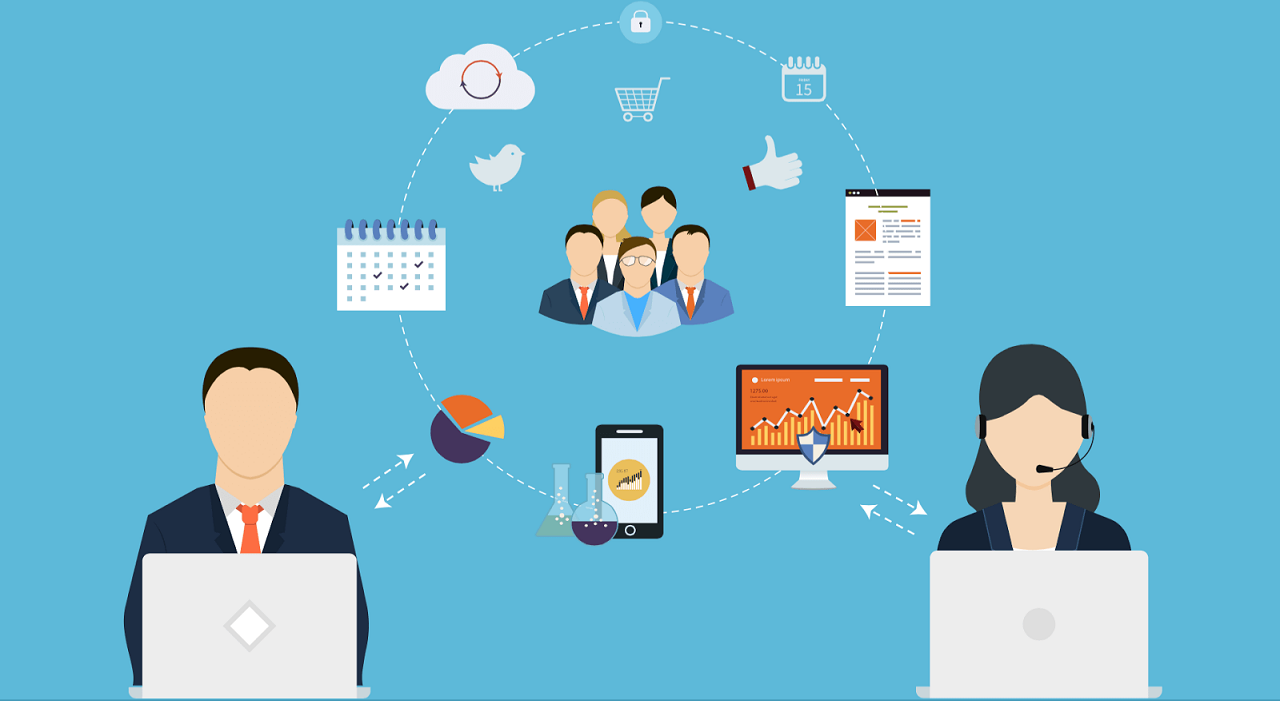 30 Apr

Working Remotely? Try these 20 Remote Work Tools for Better Communication, Collaboration & Organization
Working Remotely? Try these 20 Remote Work Tools for Better Communication, Collaboration & Organization
Time has evolved, and so has the idea of working. Today, more and more employees look towards finding work opportunities that come with flexible schedules. Remote work has become a new trend, and people are considering it as a full-time career. The idea behind remote working is to keep doing the job wherever the employee wants. With the changing needs of the employees, employers, too, have started embracing this inclination, and they now use flexible work options as a way to entice their new employees.
No doubt the Internet has brought us many advantages over the years. It has made our work life relatively more comfortable. We get most of our daily work done, whether it is publishing an article or a blog post, sending an email, conducting a video call with team members, etc.
But when it comes to remote work, we know that the Internet is not everything that we require. While working remotely, we come across many obstacles that can be challenging. Because of this growing trend, we have discovered ample tools and resources that can help employees to work productively and professionally while working remotely or from home.
To help decide which tools are perfect for you and your remote team, we've put together a list of some of the best tools to experiment with. Let's have a look at these tools that can help you in managing your remote work and team efficiently.
20 Helpful Remote Work Tools and Software
Remote Work Tools For Hosting and Arranging Virtual Meetings
1. ZOOM
Zoom is a very convenient app that helps you to arrange, launch, and record virtual meetings with your team. You can enter into these meetings remotely from a computer, smartphone, or iPhone.
With Zoom, you can experience an amazing quality of the video. During the remote Meetings, you can record the meeting with a full-length video. Zoom app also allows you to share the screen with other members for a combined discussion. You can also conduct a webinar through Zoom.
2. GoToMeeting
GoToMeeting is one of the premier meeting apps that helps you to launch and arrange virtual meetings or webinars. It is a software that allows you to meet customers, clients, colleagues, or other users via the Internet. You can also record meetings here.
3. Whereby
Whereby (formerly appear.in) is a tool that allows video conferencing with screen sharing and recording. It is primarily for individuals and teams who want to have a secure and reliable video meeting. You just have to create a room link and share it by email or chat. All meetings take place from your browser.
Remote Work Tools For Project Management
4. Basecamp
Basecamp is a leading team communication and project management software that offers ample features for arranging conversations. You can share ideas while keeping the teammates on the same page. This software is widely prevalent among project management agencies, managers, teams, freelancers, etc. The software is known for its smooth design and simple functionality. With this software, you can productively communicate with clients.
5. Trello
Trello is an incredible software that is quite easy to use. It helps you in creating a dashboard that can highlight large projects and tasks related to them. With this software, you can label each small task, called a "card" with a colored text. Trello keeps track of everything, and even Card's progress can be tracked through its activity area. You can also mention deadlines to the other members of your team.
6. Asana
Asana is a mobile and web application developed primarily to allow teams to organize, track, and manage their work. The primary purpose of this app is to improve team collaboration and work management. Asana helps you to manage projects and tasks in one tool. You can create and organize tasks and chat within each task to stay connected. Asana also provides other features like calendars, dashboards for projects, etc. You can assign work to other teammates and mention deadlines.
Best Tools For General Team Collaboration
7.Slack
Slack is one of the prime work tools that people love to use. It is a chat room for your whole company where people can share files, information, etc. It is developed majorly to replace email as your primary method of communication. You can use Slack anytime for instant messaging and collaborations and you will find all yourteam communication in one place. You can easily use slack on iOS, Android, and computer.
8. Troop Messenger
Troop Messenger is one of the most excellent business collaboration apps that promote more transparent and faster communication. This business chat application allows you to create an unlimited group and is suitable for small, medium, and large enterprises. All the members can communicate via instant messaging, audio, and video. The app also allows you to share files, documents, and locations. Admins can add vendors and suppliers to ensure business continuity.
Best Tool For Quick Chat With Colleagues
9. Whatsapp
It is one of the most widely used messaging apps that is available on Android and other smartphones.WhatsApp Messenger, or simply WhatsApp allows you to send text and voice messages and make video calls, etc. You can share images, documents, files, locations, and other media with clients. Even for a globally dispersed team with international clients, Whatsapp is the best communication platform.
Remote Work Tools For Asset Management or (Storage Services)
10. Google Drive
Google Drive is a cloud storage platform that allows you to store and organize all your files in a secured location. It is free and is majorly used for reporting weekly metrics. With this, you can share sheets, documents, presentations, etc. Google Drive files can also be easily synced in other devices, which makes it very convenient for users who can view and update the data.
11.Dropbox
Dropbox allows you to share large files like PowerPoint, Photoshop, sketch, etc. which don't work well over email. Dropbox will enable you to sync and share documents. Dropbox is free and is popular among business teams. It brings your cloud content and files together with the tools that your group wants to use.
Work Tools For Better Time Management
12. Teamwork
Teamwork is a tool that tracks your team's productivity. The features of this tool include time tracking, listing tasks, uploading files, etc. Teamwork allows youto manage group objectives.
13. Time Doctor
Time Doctor helps you in keeping a close eye on your team's productivity, like how your teammates are spending their time, for client billing, etc. Time Doctor allows you to create projects. You can start the clock when doing a new task, and the tool will show you a report of hours your colleague has worked. This app also includes features like alerting to avoid distractions for more productivity. You can download this tool on the desktop or your mobile.
14. Harvest
Harvest helps you in keeping track of time and expenses. With this tool, you can create projects and start the clock when you start a task. This tool will show you the time that you have to spend on a particular task.
Remote Work Tools To Enhance Productivity
15. Krisp
Krisp is a noise-canceling app that emoves all background noises with a single button. It removes noise for both incoming and outgoing calls and hence allows you to be more productive. You and your teammates can conduct essential calls from anywhere by using apps like Zoom, Skype, Slack, and many others and can enjoy a noise-free meeting.
16. Todoist
Todoist is used by many people to organize and plan projects, both big and small. With Todoist, you can make a To-Do List. You can also set reminders and a day planner for more productivity.
Best Tool For Quick Feedback
17.Chimp or Champ
Chimp or Champ allows you to connect with your team in the best possible way. It is a weekly anonymous employee happiness meter where you can check your team's pulse and their wellbeing. It helps you in providing the best feedbacks for your organization.
Best Tool For Converting Time
18. World Time Buddy
It is an accessible and convenient visual time converter, scheduler, and world clock. World time buddy allows you to compare multiple time zones.
Best Tool For Taking Down Notes
19. Evernote
This app helps you to prioritize your ideas, projects, and to-do lists. The app allows you to save emails, files, and attachments from Gmail. Your notes can be in the form of texts, drawings, photographs, protected web content, etc.
Best Tool To Celebrate Employees' Accomplishments
20. WooBoard
Wooboard is a fun and easy to use employee recognition platform that celebrates Wins of employees. It is the best platform that appreciates employees, connect teams, and make engagement happen.